Government has secured a 24.5 million dollar facility from the Indian government through the Indian Exim Bank for the development of the Komenda sugar factory project.
This was disclosed by President Mahama on Monday during the inauguration of Komenda sugar factory in the Central Region.
"In order to ensure sustainable raw material production base for this project, a 24.5 million dollar facility has been approved by the government of India through the Indian Exim bank for the development of sugarcane plantations with irrigation facility to feed this factory," he stated.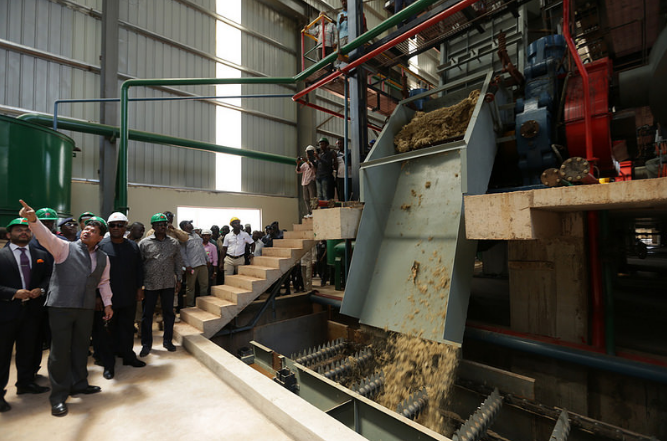 According to the President, the firm is to ensure sustainable development of sugarcane plantations and in turn, harness the continuous growth and smooth running of the facility.
"This project is targeted at covering an irrigable area estimated at above 2,000 acres. The loan facility will be used to establish irrigation facilities to cover over 2,000 acres to serve as a core farm to feed the factory. Part of the facility will also be used to support out growers who are willing to supply raw material to the factory."
President John Mahama also urged the people of Komenda to contribute to make the project successful,
"The irrigated core farm of the factory will be able to supply 40% of the raw material this factory needs. The remaining 60% must come from the out growers."
Meanwhile government says it will set up a corporative society to assist sugarcane farmers increase their production.
"The factory is therefore going to setup a farmers' corporative involving all farmers who supply sugarcane to the factory. They will be registered assisted to increase their sugar production. The farmers will also be given other incentives and encouragement to be able to work together with the factory," Mr. Mahama assured.
The factory according to the president is designed to create over 7,000 jobs for Ghanaians, most especially the youth and inhabitants in the Central Region.
–
By: Jessica Ayorkor Aryee/citibusinessnews.com/Ghana