Government has announced the construction of an onshore natural gas transmission pipeline from Takoradi in the Western region to Tema in the Greater Accra region to transmit natural gas to power generation plants.
It follows the signing of a Project Implementation Agreement (PIA) for the Aboadze-Tema Natural Gas Transportation Pipeline and gas infrastructure Project.
The agreement was signed between the Ghana National Gas Company (GNGC) and Yantai Jereh Group in April 2017.
Preliminary site works as well as Front-End Engineering Design (FEED) activities are currently on going.
The facility will be constructed under a 15 year Build Operate and Transfer (BOT) mode.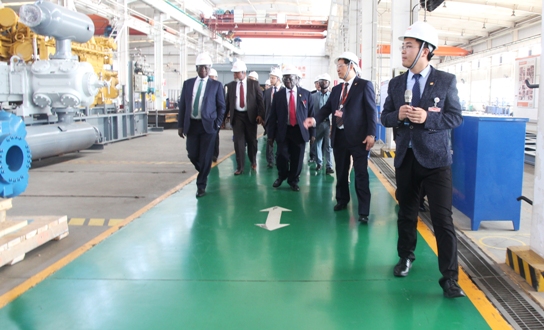 The development is also expected to among others facilitate economic development due to the numerous distribution stations which will be constructed along the coast line of Ghana.
Jereh Group is responsible for the design, financing, construction, operation, maintenance and management of the project.
A recent visit by a government delegation led by the Senior Minister, Yaw Osafo Mafo to the Headquarters of Yantai Jereh on June 25th, 2017 also revealed that Ghana's power challenges have been necessitated by the lack of adequate fuel resources to fire power generation plants.
The uncertainty in natural gas supply and its attendant effect on power supply has also been cited as impeding Ghana's short to medium term development.
The two parties have also had in-depth discussion on the Aboadze-Tema Gas Transportation Pipeline Project as well as other areas of mutual synergy and future opportunities for cooperation such as pipelines, refineries, petroleum storage, LNG/CNG systems, LPG distribution and natural gas compression.
During the visit to Jereh's state-of-the-art industrial oil and gas manufacturing complex, Hon. Yaw Osafo-Maafo, Senior Minister of the Republic of Ghana described Jereh as being a highly experienced and capable organization in the oil and gas services sector and expressed optimism regarding the company's impressive development potential.
He also went on to say "my impression of this company is first class, and what I have seen of this company is first class".
The Senior Minister described Ghana as the center of the West African alliance and advised that an exemplary performance by Jereh on the gas pipeline infrastructure project would lead to many other opportunities both in Ghana and other West African countries.
Mr. Mafo added that the project will further promote the economic and trade cooperation between China and Ghana under the "One Belt, One Road" Initiative.
On his part, Jereh Group's Chairman and Co-founder, Mr. Sun Weijie stated, "As one of China's largest independent oil and gas companies, Jereh Group will harness its resources and capabilities into numerous other opportunities within the Ghanaian energy sector. We are happy to have signed a project implementation agreement (PIA) with Ghana for the construction of a critical natural gas infrastructure".
"We believe it will be a catalyst for economic growth and major industrialization across the coastline of Ghana and the Gas Infrastructure project is certainly not the end of our collaboration. On the contrary, we perceive this step as the beginning of many great things to come. We believe that we can turn Ghana's strategy of 'one district, one factory' into a reality", he added.
Other members of the delegation were Chairman of the ruling NPP Party and Ghana National Petroleum Corporation (GNPC) – Freddy Blay; CEO of GNPC – Dr. Kofi Koduah Sarpong; Executive Secretary of Energy Commission – Dr. Alfred Ahenkorah.
Others were; the Managing Director of Tema Oil Refinery (TOR) – Mr. Isaac Osei; Board Chairman of TOR – Mr. Robert Mosore; Mr. Ismaela Ibrahim of the Office of the Vice President as well as the Chairman of Bulk Oil Storage and Transportation Co.(BOST) – Dr. Kwame Achampong-Kyei.
Ahead of the visit by the delegation by the Senior Minister, Vice President of the Republic of Ghana, Dr. Mahamudu Bawumia and a delegation of senior Ghanaian government officials including the Deputy Energy Minister, Hon. Mohammed Amin Anta, met with a delegation from the Chinese oil and gas conglomerate, Yantai Jereh Group (SZ 002353) led by its Board Chairman Mr. Sun Weijie in the Diaoyutai State Guesthouse, Beijing.
–
By: Citibusinessnews.com/Ghana