Organisers of the Kenya Trade Expo Ghana 2017 have signed an agreement with Cellulant, a Pan-African FinTech Company.
The agreement is part of an effort to encourage continued trade between the two countries and expand digital payment services to various sectors, particularly in Agriculture.
The deal was concluded during a ministerial visit by Minister for Business Development, Alhaji Mohammed Ibrahim Awal to Cellulant offices in Nairobi.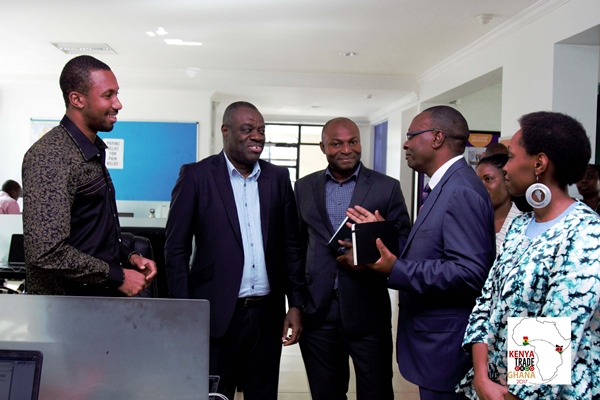 During the visit, Mr. Mohammed Ibrahim Awal and Dr. Sam Kiruthu, Cellulant's Chairman spoke of importance of private-sector led economic growth, and the role government has in supporting initiatives that foster this growth.
A good example discussed is Cellulant's eWallet technology that to-date has impacted more than 15 Million farmers in Nigeria and Liberia.
The eWallet solution, known as the "AgriKore platform" in an enterprise platform that provides both Governments and Non-Government institutions such as Ghana and Kenya a solution that provides them with a transparent way to empower farmers with financial services that are relevant to their everyday lives.
Speaking at the meeting, Cellulant's chairman Dr. Sam Kiruthu said, "Cellullant has substantially invested in both markets, and successfully established payment platforms that will enable consumers to access financial services with ease."
"Our commitment to foster these two economies goes beyond financial investment to talent. Where talents from both countries get opportunities to work in both markets and promote growth of both economies," he added.
Themed, "Breaking New Frontiers in Intra- Africa Trade," the Kenya Trade Expo Ghana will be held in Accra in November, involving a three-day workshop, keynote addresses, B2B meetings and a business tour.
The Expo Co-Founder, Mrs. Leah Nduati Lee, emphasized the need for information flow especially with regards to availability of mobile payment platforms, that would facilitate Intra-Africa trade.
–
Credit:  Kenya Trade Expo, Ghana