President Akufo Addo has reiterated government's commitment to improve the standard of roads in the country.
According to him plans are underway to construct roads in the country with the use of concrete.
This he believes will bring an end to the fast deterioration of roads soon after they are constructed.
"As we have indicated, our government is considering a transition for the use of concrete for the construction of more durable roads in Ghana. This means we shall be needing even more cement than before".
Speaking at a ceremony to lay the foundation stone for CBI Ghana Ltd, President Akufo Addo said he will ensure the continuous strength of the country's cement industry.
"My government will on its part continue to ensure that the private sector gets the regulated support. I cannot over emphasize how critical it is for the cement industry to prosper. Cement forms the backbone of the country's development which contributes about a quarter to the country's GDP. The local manufacturers of cement help create jobs and boost trade with our foreign reserve from having to import cement".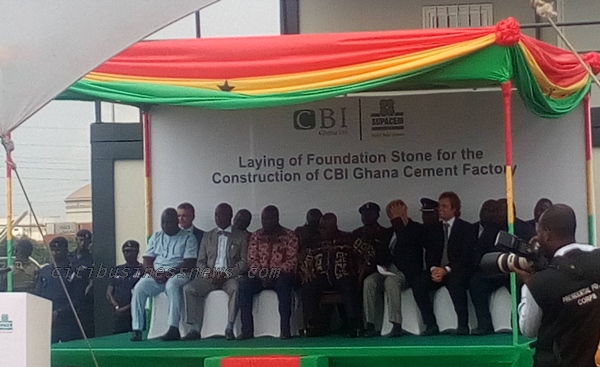 Meanwhile, Director of CBI Ghana Ltd, Ernest Kwesi Minta said the company will provide about 400 jobs and produce a capacity of six hundred thousand tones within forty eight hours.
"The indirect jobs are as numerous as possible because as we are selling the cement to those who buy and distribute. People will be employed and our sales team is going down stream to ensure that job penetration will be massive".
CBI Ghana is a newly established cement company in Ghana.
The company applies technologically-advanced cement grinding plant at the Tema Free Zones to produce bagged and bulk cement and ready-mix concrete used in building projects ranging from small, local projects to high tech ones.
CBI Ghana is affiliated with Lafarge Holcim, the world-leader in cement manufacturing.
Lafarge Holcim operates in 90 countries including 30 in Africa alone.
Lafarge Holcim is based in Switzerland with its central functions divided between Zurich and Paris, France.
The company employs 115,000 people worldwide.
CBI Ghana produces Supacem, a premium-quality cement product.  They also offer Supacemin two grades — "Fast Dry" 32.5R and 42.5N.
Their products are manufactured to meet GS 1118 and EN 197 quality standards.
–
By: Anita Arthur/citibusinessnews.com/Ghana