A 40-footer container which was under-declared by an importer has been intercepted by Customs officials at the Nick scan at the Tema Port.
The container, which was imported from China, is said to have been mis-described, resulting in the near loss of revenue running into thousands of cedis.
According to the Assistant Commissioner of Customs at the Tema Port, Felix Mate-Kojo, the importer and agent declared the container as containing Napsak Sprayer Machine for farmers, Cutting ring for cone crusher, Raw Crusher frame and bucket ears for excavator.
He noted that, the container when physically examined at the scanning section, was detected to be carrying some other consignments which were not on the declaration.
He said further checks revealed hundreds of mobile phones, batteries and other phone accessories as well as some communication equipment in the container, had not been declared on the declaration document by the importer.
He said due to the mis-description, the agent paid five thousand eight hundred and 50 cedis as duty, since the items originally declared are items which attracted taxes below five percent.
Mr. Mate-Kojo said "after having checked the container and physically examined the items one by one, the importer is due to pay about 55 thousand Ghana cedis in duty."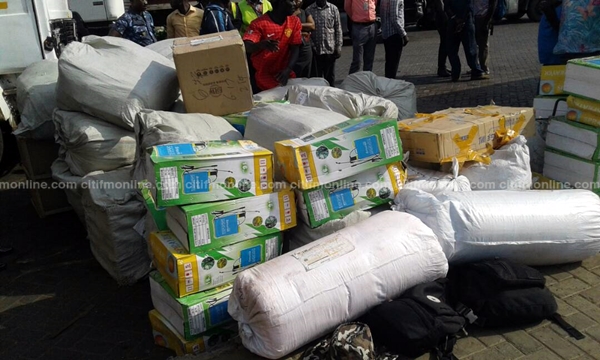 He added that "as part of measures to ensure agents and importers declare the right duty at all times, there are penalty units that persons who try to outsmart the system are made to pay. To this end, the importer and the freight forwarding company would be surcharged to pay three hundred percent of the total duty plus the original duty. So in that case, this importer would now have to pay about 165 thousand Ghana cedis as penalty with an additional 55 thousand as duty."
Briefing the media in Tema, the Assistant Commissioner noted that, persons who would like to outsmart the system due to the implementation of the paperless system when caught would not be spared.
He urged freight forwarders to desist from such acts, as it was criminal and that persons caught would not be spared.
"Since the implementation of the paperless, some unscrupulous persons have decided to take advantage of the new system to misbehave and under pay their duty, but we shall clamp down on them and deal with them ruthlessly by naming and shaming all of them as well as punishing them to serve as deterrent to others" he stressed.
Mr. Mate-Kojo, who could not tell who exactly who might have mis-described the declaration, noted that, "The freight forwarding Agency, Senama Logistics Limited in Tema, who stands surety for the importer, United Car Services, would be surcharged to pay the true value of the items in the container before it will be released to them."
–
By: Elvis Washington/citibusinessnews.com/Ghana